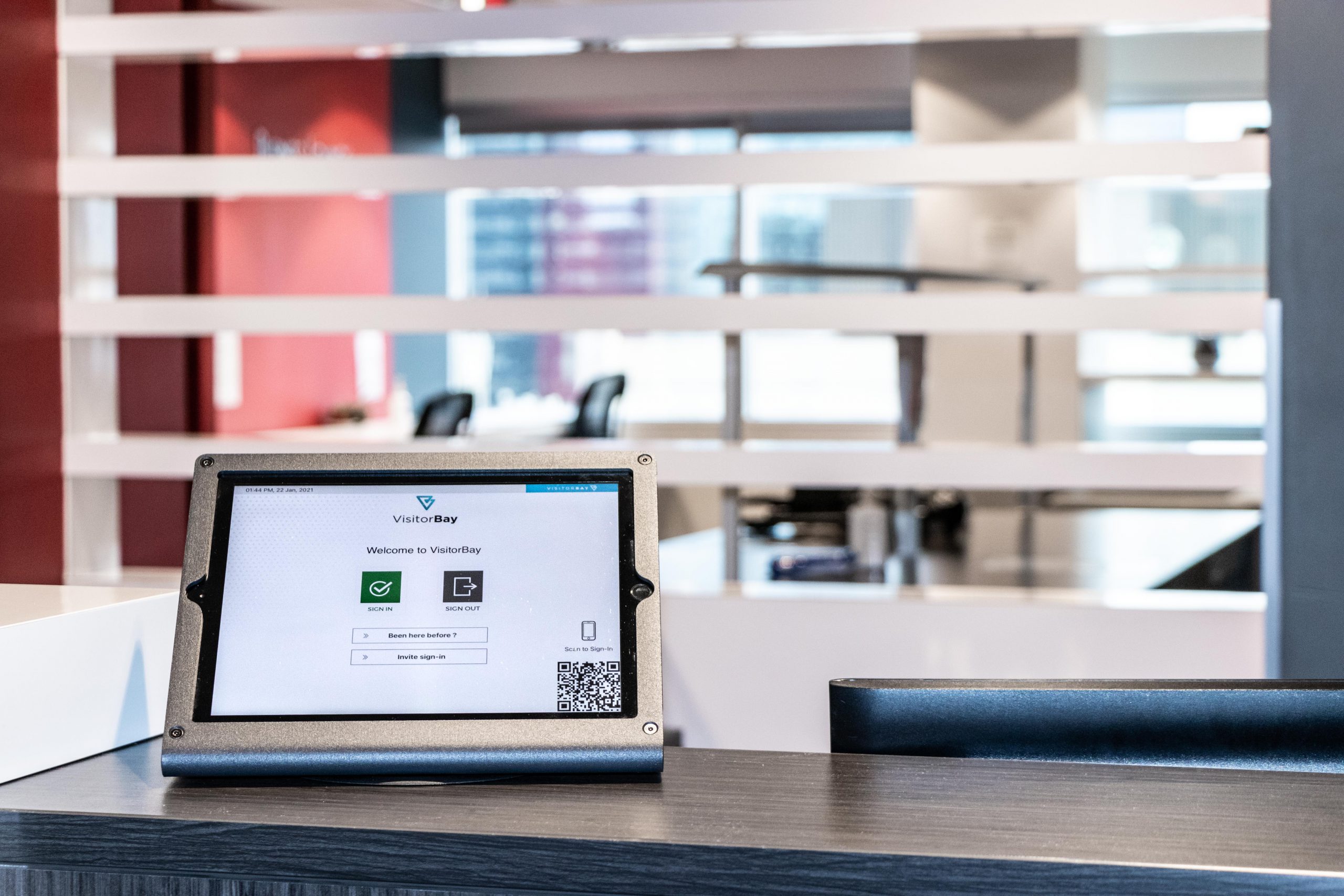 Are you looking for a visitor management system in Canada? VisitorBay is proudly Canadian and a fully customizable visitor management system and sign-in tool for your business to take advantage of several important aspects that come with keeping a workplace safe and efficient in today's dynamic workplace.
Designed here in Canada and with resources across the country, we help companies of all sizes to facilitate effective visitor management in a variety of business settings.
What is a Visitor Management System?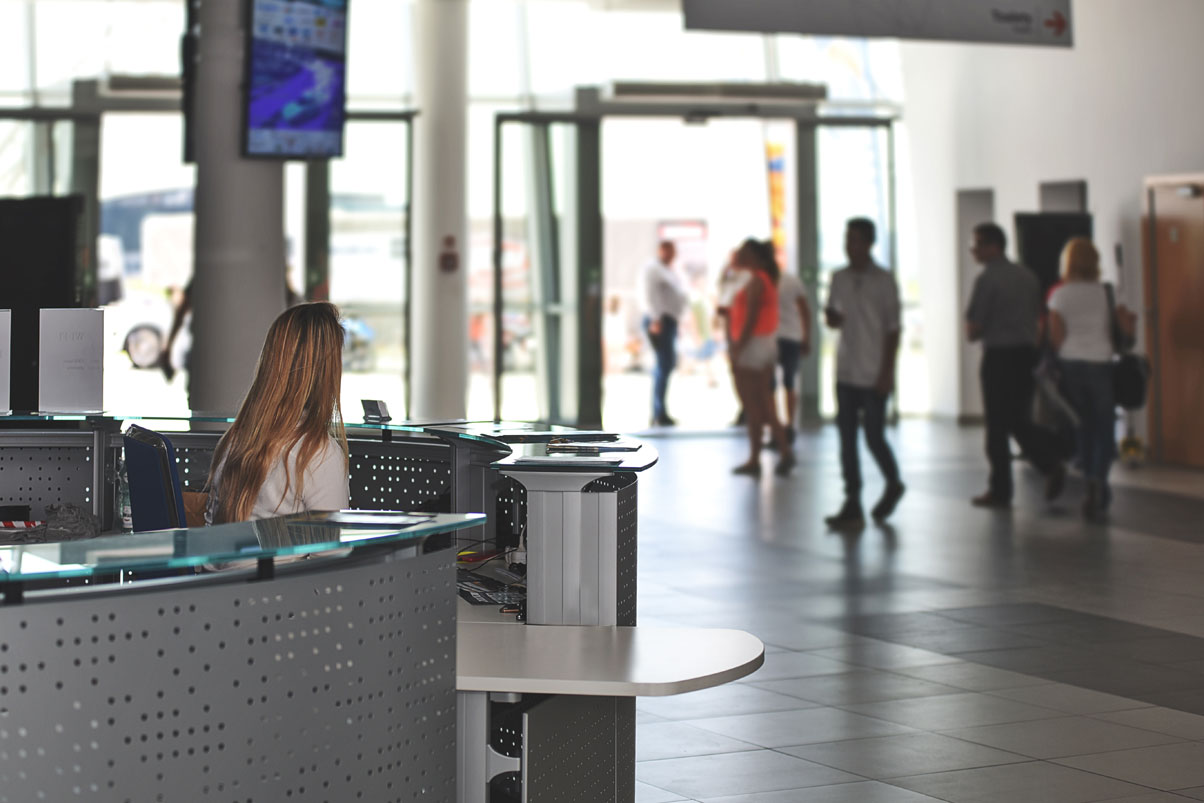 A visitor management system is a technology that helps you to sign-in and track visitors entering your location. These visitors can be clients, interviews, contractors, consultants, deliveries and things like the occasional personal visit. A visitor management system replaces traditional paper sign-in sheets with a powerful digital sign-in tool that tracks when these visitors are entering and exiting locations, including real-time head counts in emergencies, visitor emergency evacuation notifications and granular reporting when you need to refer back to historical visits. Some additional features like visitor photo capture and badge printing enhance the overall visitor experience and the security of your locations.
With a visitor management system you can be rest assured that visitors have signed-in, are permitted to be on site and traceable throughout the enterprise. Our visitor management system software can also be utilized by security teams to monitor foot traffic and potential threats at your location, including watch list and blacklist capabilities. A visitor management system is a great addition to your points of entry.
Who uses a Visitor Management System?
A visitor management system can be used by companies of all industry and size. There's no best single configuration for visitor management and that's why VisitorBay has placed a lot of emphasis on making it's technologies fully customizable, branded to your organization and easy to use. Visitors will assume that your visitor management system was built specifically for you.
VisitorBay's visitor management system technology is being used in office towers, by property managers in multiple facilities, campuses, construction companies, industrial work sites, loading docks, retail locations, film production sets and in a variety of other unique applications to make visitor management in the workplace clear, concise and actionable. You may have even already signed-in to a location using VisitorBay!
Key features of a visitor management system in Canada:
Increased security at your location
Improve the overall visitor experience
Modernize your front-end lobby and reception areas
Sign important documents are visitors enter your locations
Store all of this information in an easy to use cloud based visitor management portal
Your data stays in Canada
With the VisitorBay visitor management system, you are able to sign-in visitors with a digital sign-in device, by using our contactless QR sign-in technology, or both. The VisitorBay contactless sign-in feature allows your visitors to simply scan a QR code with their mobile device for expedited sign-in, all branded to your company and with the ability for special sign-in flows to ensure that you're capturing the information that's important to you.
Try VisitorBay for free by signing up here
or
Book a meeting with us by contacting us
VisitorBay's Visitor Management System
VisitorBay's visitor management system was developed to be easy to setup and use, with comprehensive back end functionalities that make visitor management secure, efficient and pleasant to use by end-users and company administrators.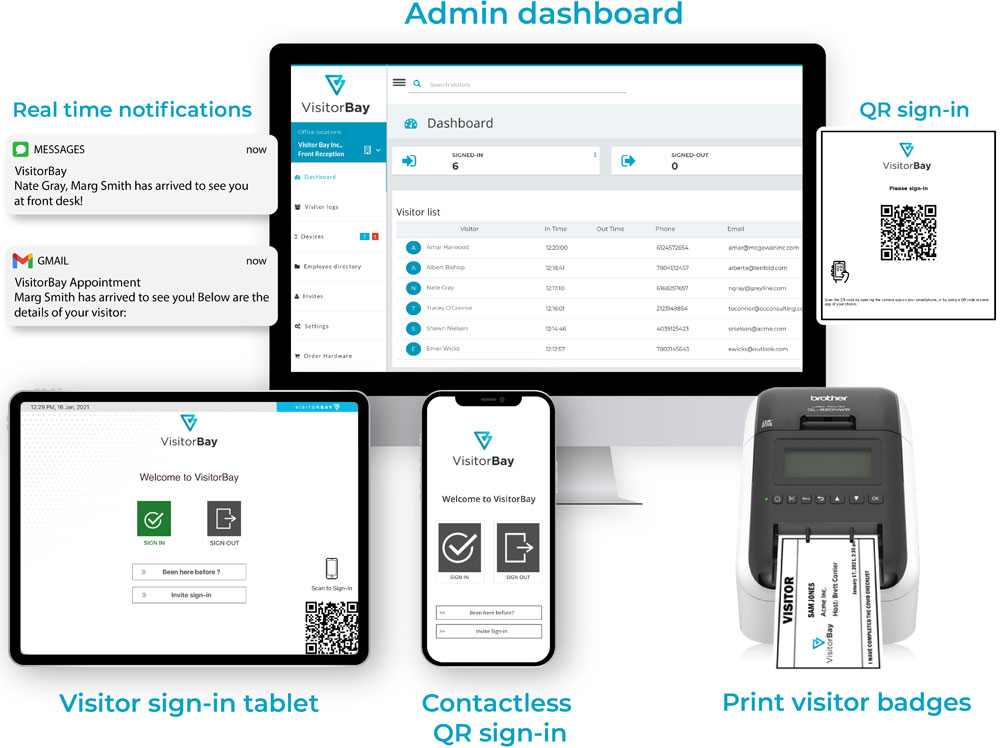 VisitorBay's Visitor Management System Features:
Electronic visitor sign-in
Host notifications (SMS & email)
Emergency evacuation notifications and lists
Badge printing and photo capture
Accurate, legible sign-in information and tracing
Screening questionnaires
Office agreements and policy signing
Contactless sign-in (visitors use their own phone to sign-in)
Detailed visitor lists and reporting capabilities
Watch the VisitorBay teaser
Learn more about VisitorBay's features
Safety and Screening in the Workplace
VisitorBay has built several tools to help your business screen visitors and sign off on digital agreements that specify your entry criteria. This could be a health and safety document, NDA's or general safety best practices. Signed agreements are stored as a PDF document to each visitor sign-in session.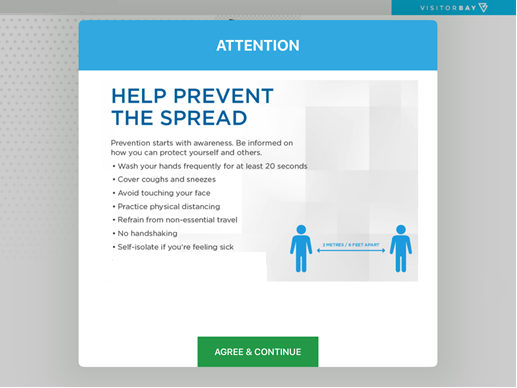 Improve Manual sign-in Process
Illegible sign-in's, lost visitor logs, people forgetting to sign-out are common challenges and why many are leaning toward a visitor management system that increases the effective logging of visitors entering and exiting locations.
Know who was at your locations, how many times, who they were there to see and even refer to photos and signed agreements for these visitors at any time in the event of an incident.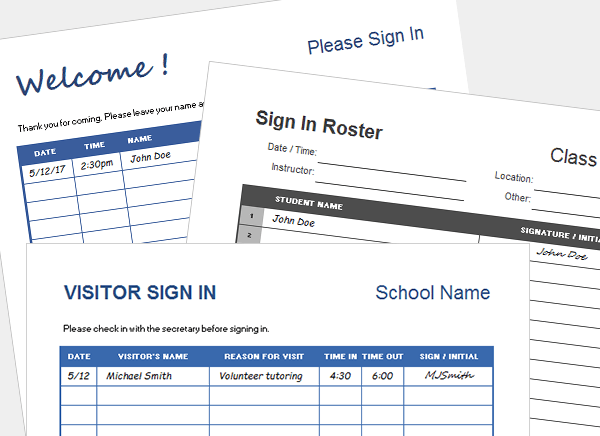 Notifications
Notifications play a major role in choosing a visitor management system for your business. With VisitorBay you can quickly notify employees that visitors have arrived to see them and in real-time. This means less time spent by office reception and staff to notify employees when a guest has arrived to see them. Host notifications include guest information and quick 2-way communication options to reach visitors directly when needed.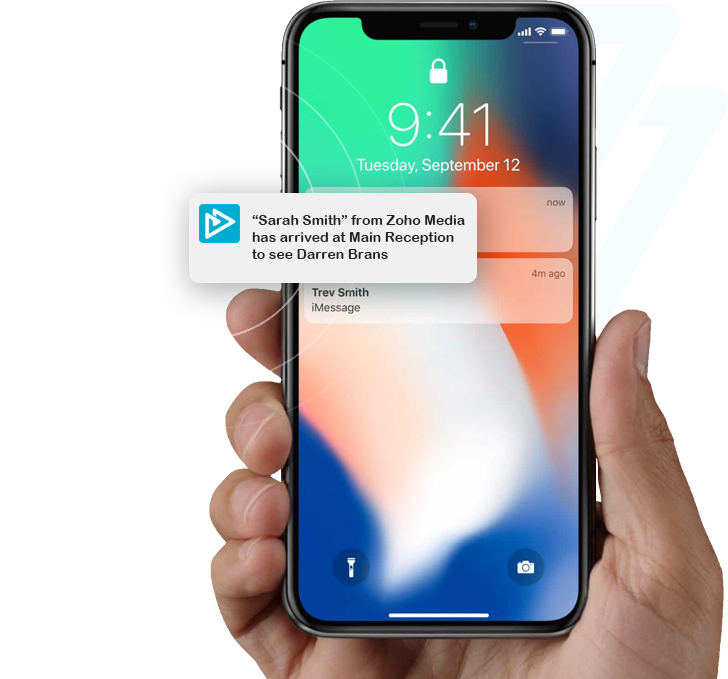 Canadian data Residency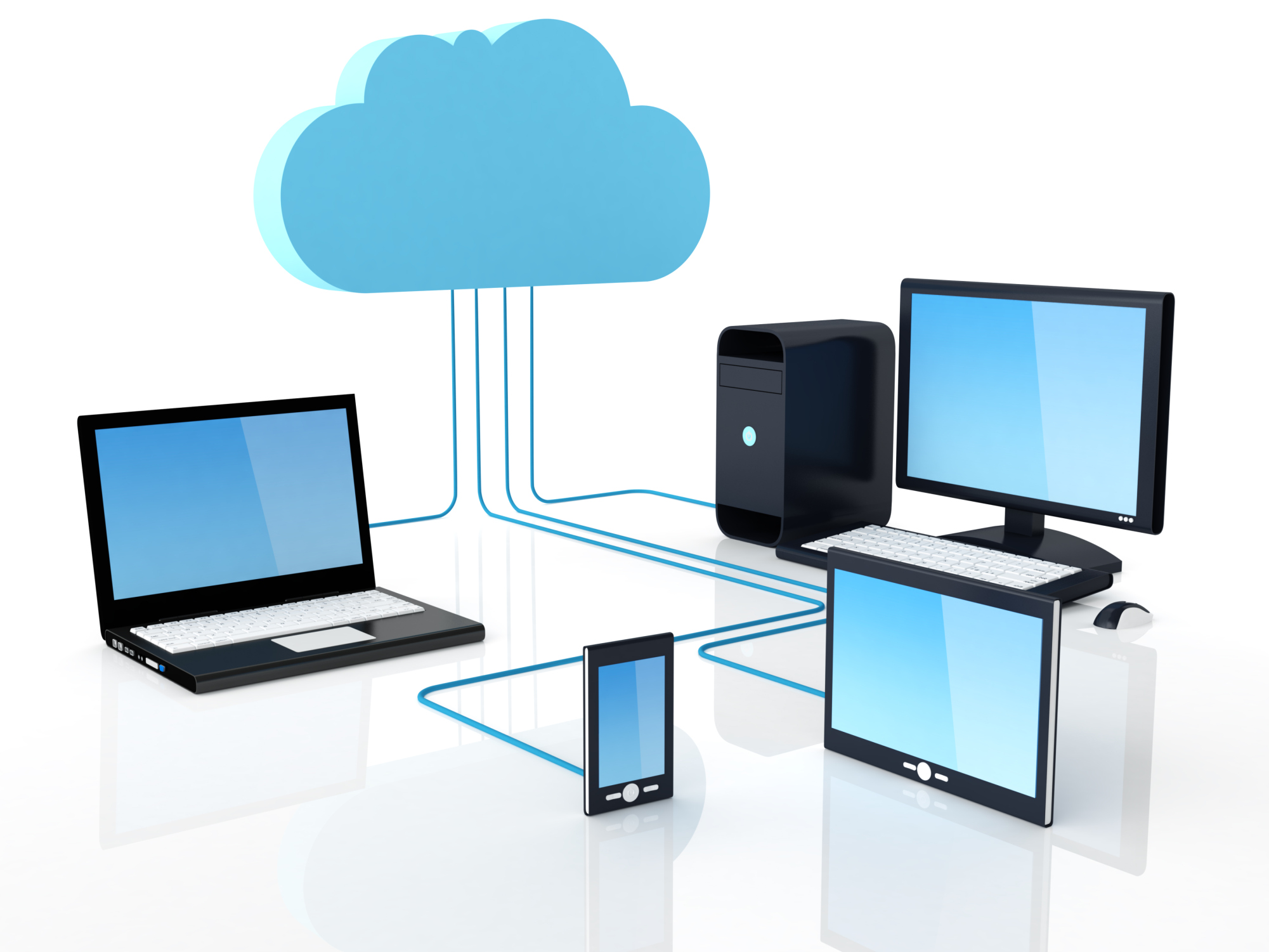 VisitorBay is proudly Canadian and houses it's data in world class data centers located in Canada for it's Canadian customers. Your data is safe, secure and never leaves Canada.
Security white papers and documentation are available on request and suitable for enterprise compliance requirements.
The reasons for choosing a visitor management system in Canada to increase office safety, security and efficiency are clear over manual sign-in sheets which is why VisitorBay offers a free 30-day trial. There's no obligation and setup can be completed within 60 seconds.
Try VisitorBay for free by signing up here
or