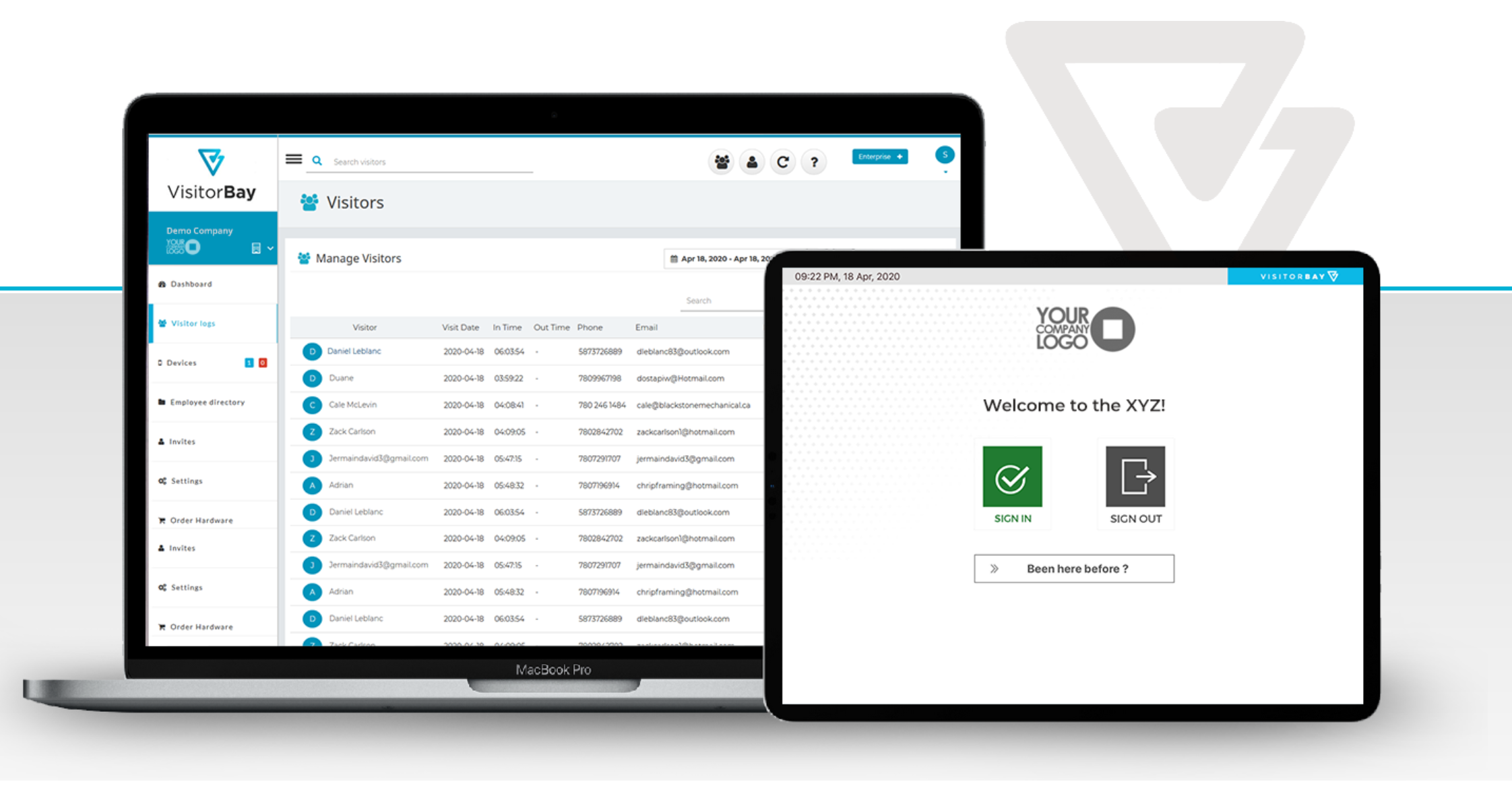 Summary:
Screen visitors for symptoms with an on-screen COVID-19 notice as visitors enter your location.
Require that visitors sign an agreement outlining location policies and procedures.
Notify hosts of visitors arriving in real-time with SMS and email alerts.
Send visitors invites for their scheduled appointments with special notes, instructions and predict future occupancy numbers.
Track visitor sign-in information with the ability to view and export reports at a later time if needed, including signed agreements.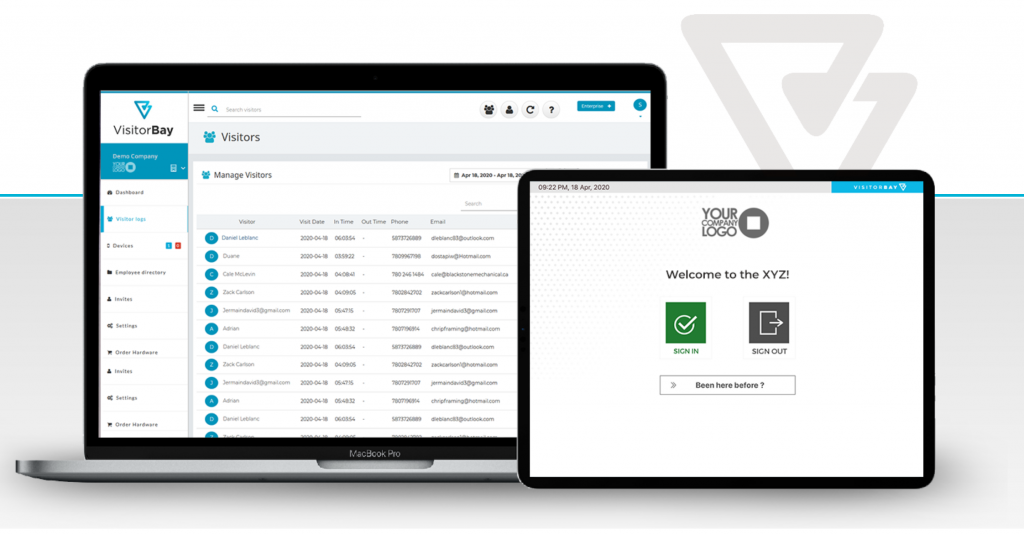 The COVID-19 Coronavirus pandemic has become a global topic and affected our day to day lives in many ways. With essential businesses continuing operation and many others planning a back to work strategy, now more than ever it's important to include visitor screening and sign-in process as people enter your premises. But how does a business do that effectively outside of manual paper log books? Whether you're an essential business still in operation or planning for back to work strategies, VisitorBay can help to prevent the spread of the virus and to help your business get back to work safely with digital visitor sign-in and screening solutions to help protect against COVID-19 in the workplace.
Try VisitorBay free for 30 days to protect your workplace against COVID-19
How VisitorBay protects against COVID-19 in the workplace
COVID-19 visitor screening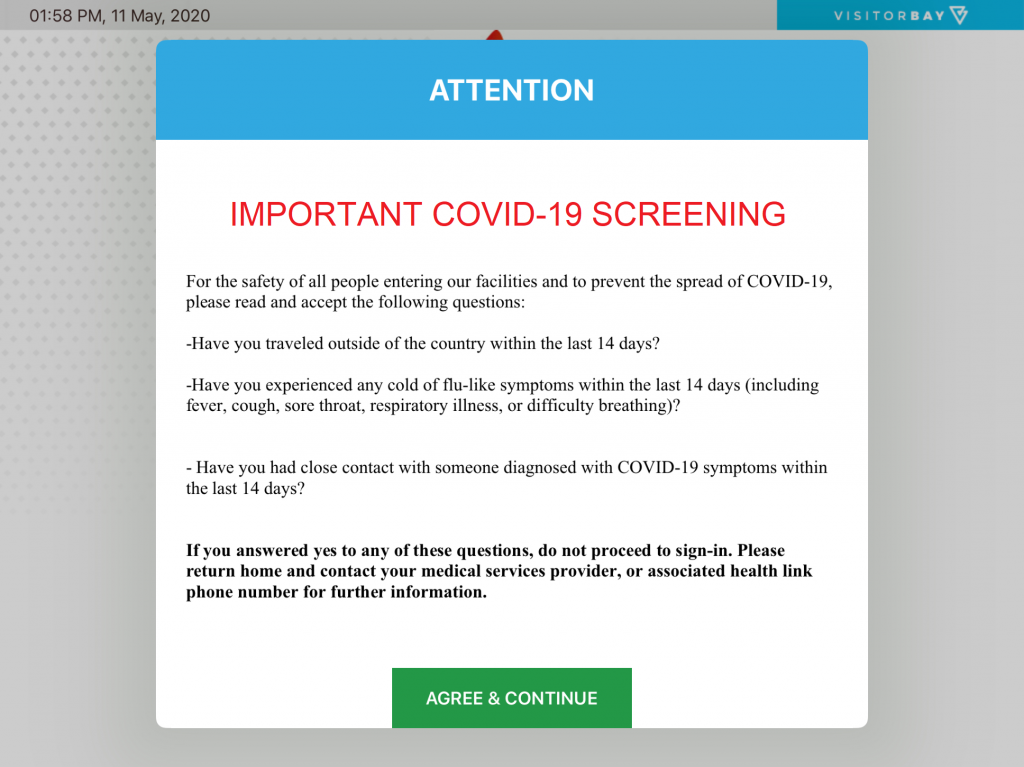 An on-screen symptom checker advises visitors to read and accept a disclosure before entering your premises. Should a visitor have any symptoms, they are asked to return home immediately. This feature can be enabled and customized in the Settings -> iPad settings area of your admin dashboard once you have an account created with VisitorBay.
Visitor sign-in information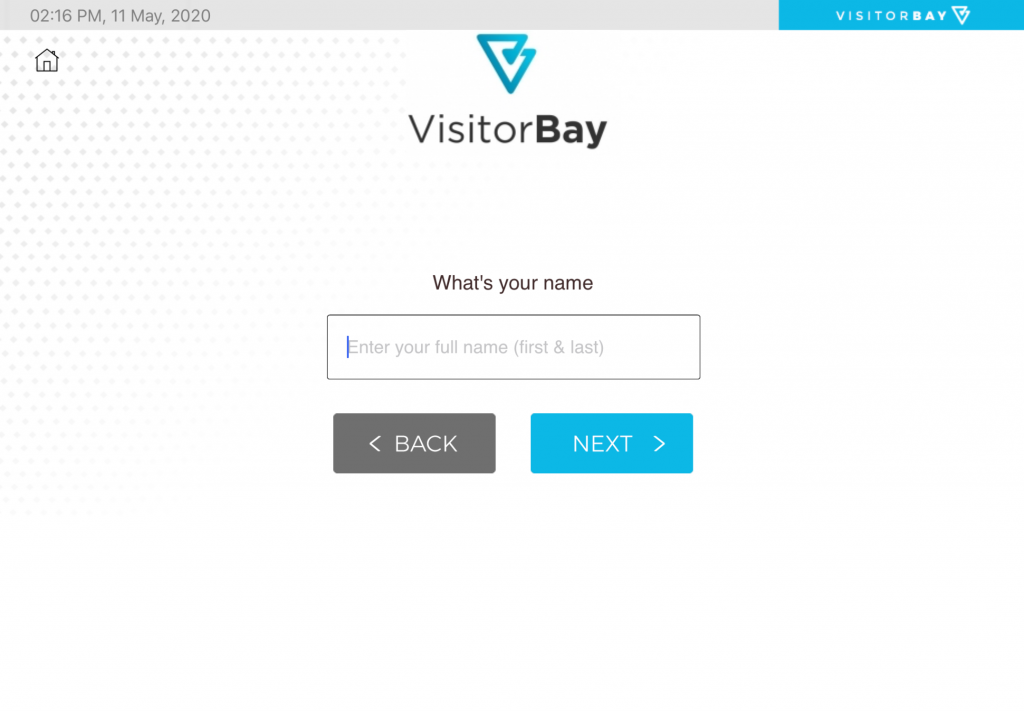 Each visitor must sign-in to your office iPad, meaning visitor history is tracked for easy reference at any time including visitor name, phone, email, photo and more, all customizable to your preferences.
Host notifications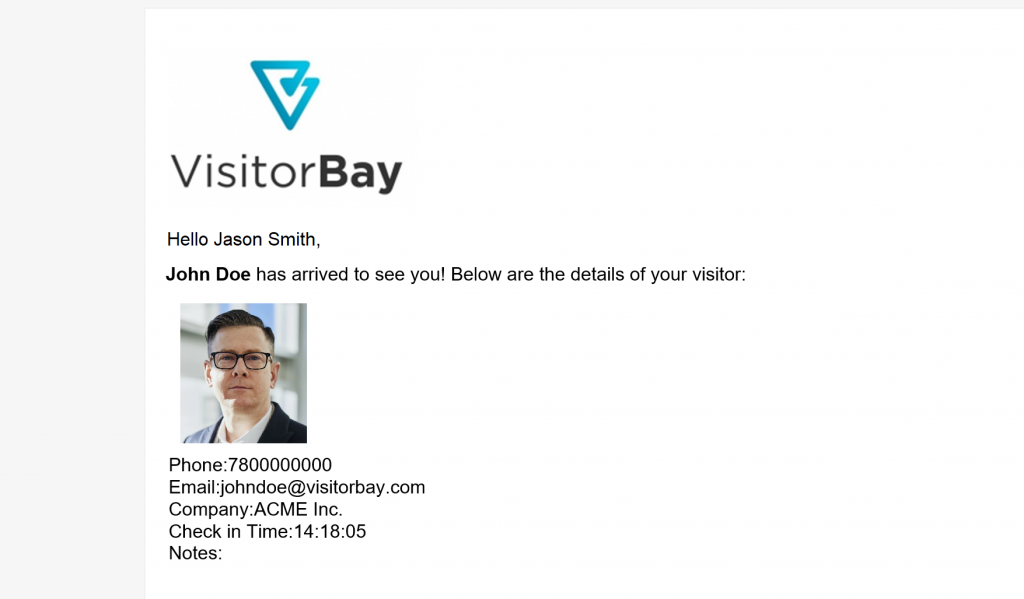 Real-time notifications by email and text message allow your hosts to be notified as new visitors arrive to your location. This includes photos of your visitors (optional). Should a guest arrive unexpectedly, or your host have any concerns around specific visitors entering your premises, the VisitorBay notification feature helps to prevent unauthorized access to your facilities and allows hosts to proactively turn-away guests during these sensitive times.
Visitor agreements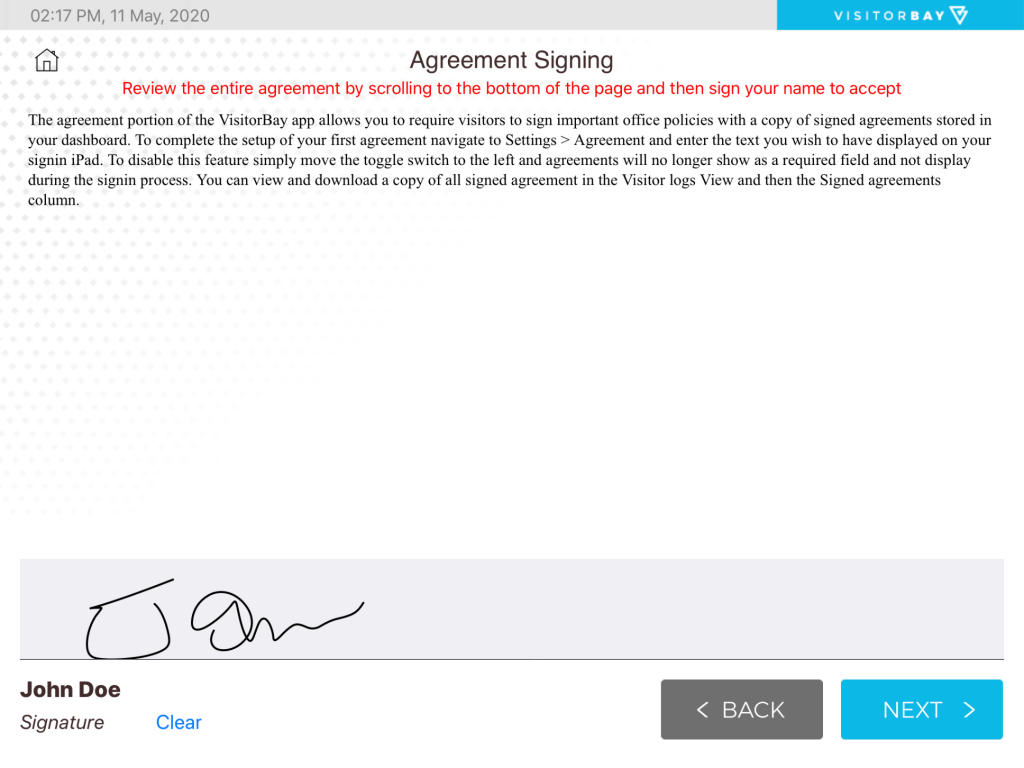 With new measures being taken to protect workplaces against COVID-19, the agreement signing function ensures that visitors accept your policies before entering your premises. All agreements are stored in your VisitorBay portal and assigned to each visitor for reference at any time. Your visitors are also sent a copy of any signed agreements directly to their email inbox after their visit for a mutually binding process.
Visitor reporting
In the event of an exposure or workplace incident, VisitorBay makes it easy to track and reconcile visitor lists during specific date ranges and time frames. Just navigate to the Visitor logs area of your dashboard to start producing visitor reports based on the required criteria.
Visitor invites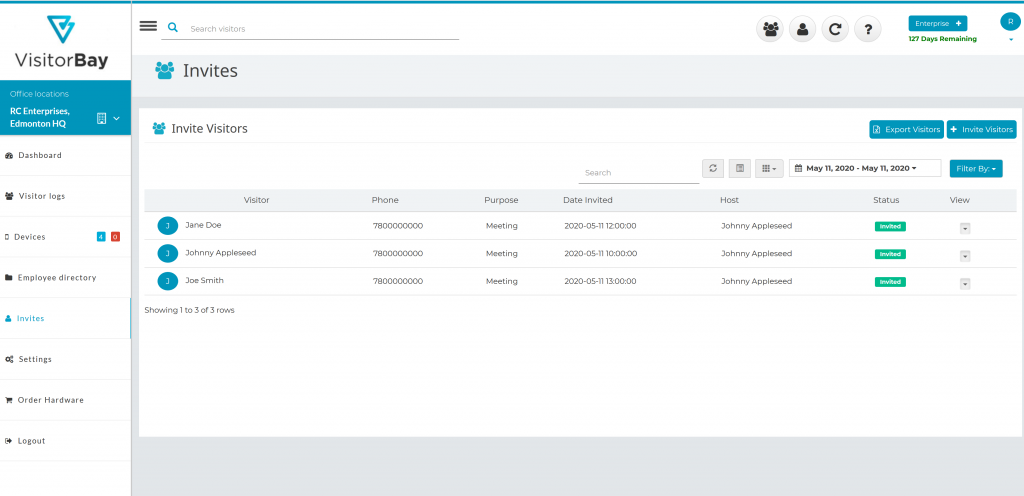 Send visitor invites from the dashboard for their scheduled appointments before they arrive so that your staff know who to expect on any given day and provide your visitors and special instructions with what changes or procedures to expect when arriving to your location by adding notes to your invites. The invites feature adds increased awareness for both internal staff and visitors including which visitors are expected on any given day and time and if capacity issues are a concern, being able to accurately forecast occupancy numbers.
When does your Duty of Care start for employees and visitors at your office?
Companies have a duty of care to provide an environment free of known and preventable risks for employees and visitors. Further to this, employers could be found negligent if they do not have the proper controls in place that mitigate known risks.
While this encompasses many facets including PPE, regular sanitation and other precautions, it begins as people enter facilities. Whether it be employees returning to work, visitors at the front desk or contractors/merchandisers signing into the loading dock – a quick screening and agreement as they enter is key to a RTW (Return to Work) protocol to mitigate known risks.
Companies need to recognize that COVID-19 is a known risk and they are required by law to take appropriate steps to mitigate that known risk, which includes managing the risk of infected persons entering the premises. Although COVID-19 risk is present everywhere, it becomes a meaningful and known risk that your company is responsible for at your front door. Companies should be managing that risk by confirming all visitors and employees are free from symptoms of COVID-19.
Past managing the preventative risk to all employees and visitors, it is critical that your company has a record of all individuals that have interacted at your premises. If an infected person has been identified at one of your work sites, the health authorities will require all documentation of anyone on site during certain time frames. As people become complacent with sign-in processes, they tend to scribble their information or use abbreviations, and this becomes problematic when trying to accurately identify who is actually on site, not to mention their accurate contact information.
Accurately determining the employer, contact information, reason for visit and host is important to quickly identify, contain and address any potential outbreaks. Having outdated paper books with questionably accurate information that needs to be manually found, manually copied and manually sent to health authorities can be a time consuming exercise in a time sensitive situation.
These are key to business continuity and reducing the risk of spread. If an officer determines there are not sufficient protocols in place, this could result in stop work orders or other disruptions that further damage a businesses ability to weather this unprecedented health emergency.